Our news
HR COMMUNITY CONFERENCE & AWARDS - MAY2016
N.PRATSIDIS PARTICIPATING AND COMMENTING AS A MEMBER OF THE PANEL IN THE DISCUSSION
"TRENDS IN THE LABOUR MARKET 2016"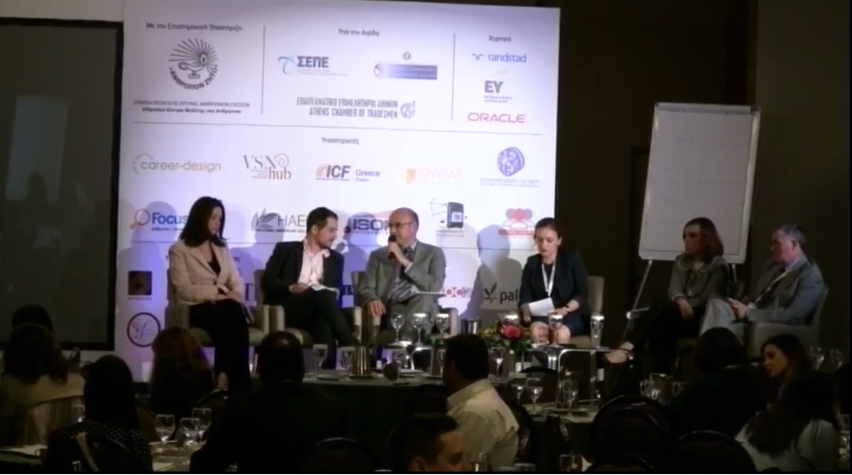 N.PRATSIDIS PARTICIPATING AS A GUEST SPEAKER
in the DAY CONFERENCE "LABOUR MARKET & BUSINESS"
ORGANISED BY THE GREEK SCOUTS ASSOCIATION
IN THESSALONIKI 14/05/2016
THE INTERVIEW WITH NIKOS PRATSIDIS
IN TV100 ON 01/12/2015 ("PERIX" PROGRAMME)
NIKOS PRATSIDIS PARTICIPATING AS A GUEST SPEAKER
IN THE DAY CONFERENCE ORGANISED by the PAN-HELLENIC ASSOCIATION OF PARAPLEGIC PERSONS
CAREER STRATEGY & EMPLOYMENT FOR PEOPLE WITH PHYSICAL DISABILITY
24/11/2015 AT THE THESSALONIKI MUNICIPALITY HALL
PEOPLE AT WORK-ΗΕLLAS  HAD A DYNAMIC PRESENCE IN THE CAREER DAYS 2015 in the following UNIVERISITIES
INTERNATIONAL HELLENIC UNIVERSITY, 7/5

CITY COLLEGE, 14/5
ARISTOTLE UNIVERSITY OF THESSALONIKI, 20/5
METROPOLITAN COLLEGE, THESSALONIKI BRANCH, 25/5
UNIVERISITY OF MACEDONIA, 09/07
INTERVIEWING NIKOS PRATSIDIS 
"PERIX" PROGRAMME",  08/12/2014
ON THE SUBJECT "CURRENT TRENDS IN THE NORTHERN GREECE LABOUR MARKET"
PART No 1
PART No 2
INTERVIEWING NIKOS PRATSIDIS AT THE JOB FESTIVAL 07/12/2014
S.D.A.D.E.-PA.MAK. CONFERENCE DAY, 24/04/2015
On April 24th, 2015 peopleatwork-hellas participated on the Day Conference organised by SDADE (GREEK HR ASSOCIATION)  in co-operation with the UNIVERSITY OF MACEDONIA (PA.MAK), on "CAREER PERSPECTIVES IN HUMAN RESOURCES".
NIKOS PRATSIDIS spoke in the 1st WORKSHOP on  "HOW TO CREATE AN EFFECTIVE RESUME and its COVER LETTER".